.gmbh Domains registrieren, .gmbh Domain Registrierung kaufen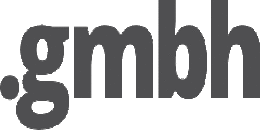 Preis der .gmbh Domain Registrierung pro Jahr:
€

29,99

inkl. 20% MwSt.
Online-Verwaltung Ihrer Domains mit den Domaintechnik®-Tools. Mit diesen Tools können Sie z.B. gratis Frame- oder Domain Weiterleitungen einrichten, E-Mail Konten einrichten und verwalten, Subdomains für Ihre Domains anlegen, aus hunderten neuen TLDs (Domainendungen) weitere Domains registrieren usw.
.gmbh Domain Besonderheiten:
Es gelten die Bestimmungen für besonders regulierte TLDs gemäß unseren AGB (Anhang 1).
Die Registrierung von .gmbh Domains ist Gesellschaften mit beschränkter Haftung aus Österreich, Deutschland, Liechtenstein und der Schweiz vorbehalten. Der Domainname muss nicht mit dem Namen der GmbH übereinstimmen. Neben jeder aktiven GmbH darf auch eine Ges.m.b.H. in Gründung Inhaber einer .gmbh Domain sein. Die Einhaltung dieser Registrierungsauflage kann jederzeit durch die Registry Extra Dynamite, LLC, den Betreiber der technischen Registry Identity Digital Limited oder durch Domaintechnik.at als zuständigen Registrar überprüft werden. Im Zuge einer solchen Überprüfung ist vom Domaininhaber umgehend ein Auszug aus dem Firmenbuch bzw. ein Handelsregisterauszug zu übermitteln. Bei Gesellschaften in Gründung sind im Anlassfall geeignete Nachweisdokumente (z.B. eine Kopie des Gesellschaftervertrags, Anmeldung zum Firmenbuch, etc.) beizubringen.
Warum eine .gmbh Domain registrieren?
Die .gmbh Top Level Domain stößt auf eine enorm große Zielgruppe in Österreich, der Bundesrepublik Deutschland, Liechtenstein und der Schweiz. Besuchern ist die Rechtsform des Betreibers der Website auf den ersten Blick klar. Die Nachfrage nach dieser Top Level Domain ist daher bereits sehr groß und zweifellos werden viele Unternehmen, die sich mit dem generischen Begriff "GmbH" (im Englischen LLC - Limited Liability Company) identifizieren können, großartig von dieser Erweiterung ihres Onlinedaseins profitieren.
Die .gmbh Domain wird im Zuge des neuen gTLD Erweiterungsprogramms der "Internet Corporation of Assigned Names and Numbers" eingeführt.
Viele Unternehmer entscheiden sich bei der Gründung angesichts der beschränkten Haftungsverpflichtung und dem im Vergleich zu einer Aktiengesellschaft geringeren Mindeststammkapital für die Rechtsform der GmbH (Gesellschaft mit beschränkter Haftung). Für Verbindlichkeiten haftet das Unternehmen selbst mit dessen Vermögen, somit ist der Gesellschafter als Privatperson in gewisser Weise abgesichert, da Gläubiger auf das Privatvermögen in der Regel nicht zugreifen können. Gemeinsam mit der Aktiengesellschaft und der Kommanditgesellschaft auf Aktien gehört die GmbH zu den Kapital- und Handelsgesellschaften.
Die Anzahl aktiver Mitglieder der Rechtsform GmbH lag in Österreich bei 91.646 von insgesamt 479.338 Mitgliedern (Stand 2014, Quelle WKO). Die größte Anzahl der Kammermitglieder stellen Einzelunternehmen dar.
In Deutschland lag die Anzahl von Gesellschaften mit beschränkter Haftung bei 518.427 von 3.243.538 Unternehmen (Stand 2013, Quelle wikipedia.org). Auch hier stellen Einzelunternehmen wieder den größten Teil dar. Allerdings lag der Anteil eingetragener Betriebsgründungen bei der GmbH bei 39,3 %, bei Einzelunternehmen nur bei 27 % (Stand 2014, Quelle Statistisches Bundesamt).
Offensichtlich steigt also die Zahl der Handelsgesellschaften, was wohl vor allen Dingen an dem großen Interesse an der Rechtsform liegt.
---
Kostenlos zu jeder Domain Registrierung

Die neuen Top Level Domains, alphabetisch sortiert
---